Hamilton Wildlife has been serving its wildlife control solutions to thousands of satisfied homeowners and businesses over many years. Your safety and satisfaction is our top priority. We aim to permanently eradicate the wild animals, insects and mammals from your place.
Contact Us for more info on our wildlife removal services.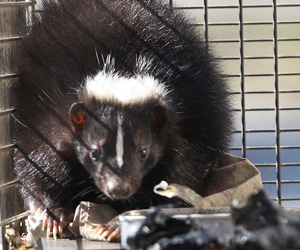 Why Hamilton Wildlife?
Instant same day emergency services
Certified, qualified and experienced professional
Eliminate the animals, birds or mammals permanently
Implement latest tools and products for effective extermination results
Pests Found in Brantford
Certain areas of Brantford render great atmosphere to the wild animals to breed and rise. These infectious animals often make their ways towards the residential and commercial settings. Some of the common wild animals of Brantford include:
Birds
Bats
Chipmunks
Mice
Moles
Opossums
Porcupines
Raccoons
Rats
Skunk
Our Pest Control Methods
Prevention – Prevention is better than cure and it must be a part of wildlife control plan. You need to prevent the entry of mammals or other animals by: sealing off the main entry points, removal of food stuffs attracting pests and make sure your space doesn't support breeding.
Baiting – Bait is a kind of pesticide that attracts insects into traps. Baits are used to attract and allow the pests or mammals to feed on poison that can be taken back to their colonies for devastation of the entire population.
Beneficial Insects – This type of pest control is ideal for outdoor use only. There are certain types of insects that prey on outdoor pests and help us attaining a pest free lawn or garden.
Pesticides – Pesticides are the most common form of pest control used by pest removal services and homeowners. Pesticides can be availed from any retailer shop, but they must be applied carefully for effective results. Our trained technicians know that pesticides pose a risk to humans as well. Thus, they stay extra cautious while using pesticides to kill pests.
Traps – This is the best alternative to catch non-insect pests such as mice, rats, porcupine, raccoons etc. Traps help in catching the pests and preventing their colonies from your space.
We, Hamilton Wildlife, has been providing unmatched wildlife control services across Brantford since many years. We have thousands of satisfied clients having a wild animal, bird and mammal free space. Our services are highly professional and affordable.
Call Us Now to get FREE estimate on wildlife removal services.